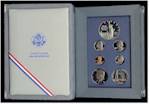 AboutCoinCollecting.com
Prestige Sets Price List

U.S. Prestige Sets available in all years! Prestige Sets at Great Low prices. Prestige Sets come with original box & certificate of authenticity.
Prestige sets contain a commemorative dollar and half dollar for that year as well as a proof issue of the Lincoln cent, Jefferson nickel, Roosevelt dime, Washington quarter and Kennedy half-dollar. The production of Prestige Proof Sets was suspended with the last issued being 1997. Each set is encased in a book-like case and comes in a laminated box.